How to convert M4P to MP3, M4A, or AAC files without DRM ?
M4P - MPEG 4 protected audio format encoded with advanced audio codec (AAC), generally used by Apple iTunes purchased songs with DRM (digital rights management), which means you are limited to play the songs on your own device. while M4A is an audio extension for unprotected AAC file.
M4P and M4A audio files quality are better and also usually sound better than MP3 files. However, M4P audio files can not be played and transferred to any other unauthorized computers, any MP3/MP4 players but only your iPods, iPhones (most 5 devices), or you even can not burn M4P songs to audio CDs, but only open M4P songs with iTunes authorized by your own Apple account. But how can I convert purchased .m4p songs to MP3, M4A, AAC, FLAC, or other audio formats in order to open and play iTunes M4P songs on any other of your computers, MP3 players, and Car CD players and so on?
Easy M4P Converter can help you to convert M4P songs to mp3, m4a, aac, flac, m4r, aiff high fidelity lossless music, and mka audio formats easily so as to transfer and enjoy your paid M4P songs onto any of your iPod, iPhone and computer without any limitation of 5 authorized devices or computers.
It is also quite easy and simple to use this M4P Converter on your Windows. You can also download the Mac version if you use Mac computer rather than PC. There are ONLY 3 steps to convert M4P to MP3, M4P to M4A, M4P to MKA, M4P to AC3, M4P to FLAC, M4P to AIFF etc. as following below:
3 Steps to Convert M4P to MP3, M4A, or AAC on Windows using Easy M4P Converter:
Step 1: Download, install and launch Easy M4P Converter
Simply download and install the Easy M4P Converter on your computer and launch it.

Download for Windows

Download for Mac OS X
You can find all your iTunes playlists on the left of the software for you to choose the songs you would like to convert to MP3, M4A, AAC, or other audio formats. By the way, this Easy M4P converter can also convert most video formats like mp4, mkv, mov, avi to audio formats so that you can also get your favorite movie music and soap operas opening theme songs etc. converted to your mp3, m4a, flac music songs for playing on your MP3 players. Besides, it can even help you to convert whatever free or paid audiobooks to audio files in any audio formats for you to play and listen to your loved stories and books on any device and anywhere. What a bonus and it is perfect to have this software!
Step 2: Choose target audio format you would like to convert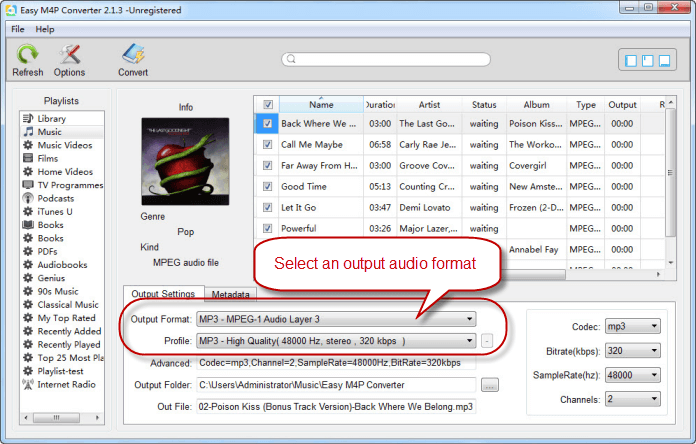 With the simple and intuitive software interface, it is easy to find the area to choose and setup the output format, profile and other advanced settings to the right bottom. You can choose the target audio file formats within 'Output Format' including MP3, M4A, AIFF, FLAC, RU, M4R, AC3, MKA. Then you can choose the proper audio quality compatible with your MP3 players within 'Profile' generally concluding high quality, normal quality and low quality. You can also customize the BitRate and SampleRate according to your devices specifications. Or you can simply choose and use the default setting for each format and each profile. It normally works great.
Step 3: Start conversion and enjoy your music anywhere!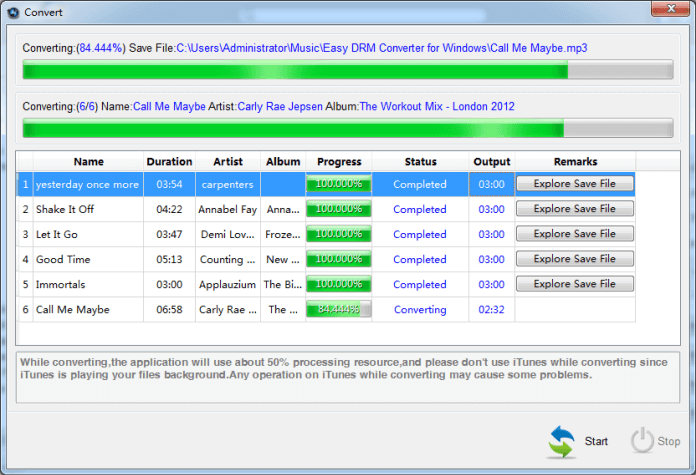 After get everything set up, simply click "Convert" button to start conversion. And you can manage all the conversion process on this interface as above easily too.
That's all so simple you need do to convert M4P to MP3 or other audio files!